Helmut Lander "Mosaic" (1955)
The artist Helmut Lander
1924
born in Weimar
1942 – 1946
military service and captivity
1947 – 1951
Studies at the University of Architecture and Fine Arts Weimar.
Diploma examination in mural painting
1949
Working with Phol and Wagner (United Mosaic Workshops)
1950 – 1951
Traineeship at the Sauermilch tapestry factory in Oberwied (Thuringia)
1951
Relocation to the Federal Republic of Germany to Darmstadt
1951 – 1952
Head of the mosaic workshop of the glassworks Mittinger & Co. Darmstadt
since 1952
Freiberuflich tätig;
Studium der Baukeramik an der Werkkunstschule Darmstadt
since 1954
Member of the New Darmstadt Secession
since 1971
Lectureship for plastic design at the Technical University Darmstadt
until 1989
Member of the Board of the Darmstadt Secession
2013
died in Darmstadt
Helmut Lander's way of working
In order to enable the often penniless artists to work independently and freely in the young years of the Federal Republic, the Bundestag decided in 1950 that a certain percentage of the construction sum of public buildings had to be spent on their artistic design – "Kunst am Bau"[1]. In this context, Helmut Lander was commissioned to design the central dividing wall between the lecture hall and the foyer hall in the new building of the Great Physics Lecture Hall, which had been destroyed during the war. By this time, Helmut Lander had already acquired a good reputation among Darmstadt artists, which is still visible today through numerous examples of "Kunst am Bau" on buildings in the city, e.g. the facade mosaic on the northwest corner of the Rheinstrasse-Kasinostrasse intersection. The works of his early Darmstadt years were inspired by Cubism. Cubism not in a dogmatic form, but as a principle of order. From the later 1960s he increasingly devoted himself to sculptural design.
An important theme visible in his figurative works is influenced by his experiences in the war and as a prisoner. In his works, the viewer feels his attachment to the sense of change in a variety of ways. In his commissioned works for public spaces, he often opted for mosaic as a technique, as it involves working with the most robust materials such as glass, minerals and stones.
The relationship of the mosaic to the exhibition site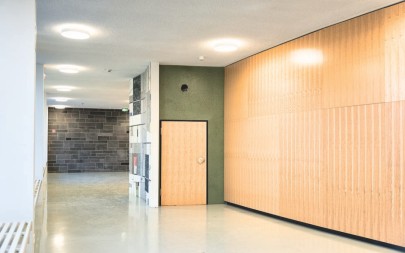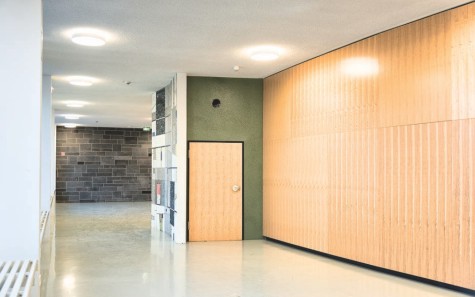 Landers' mosaic stands prominently in the center of the upper foyer of building S2|06 in which the large physics lecture hall is located and elegantly conceals the entrances to the upper rows of seats. Building S2|06 was built to replace Pützer's old physics lecture hall [2], which was damaged beyond repair by a wartime bomb treffer.
The mosaic is divided by vertical and horizontal lines that are at most slightly tilted. This creates an irregular grid of squares, some of which are filled with polished white or gray marble flakes, and others with a collection of small natural pebbles, small colored stone flakes, or glass flakes. The abstract composition is formally dominated by a gray vertical band that gives support to two black double fields. Smaller squares, kept in color, optimistically brighten the mood. To interpret the abstract map of the city hit by the bombing into the mosaic would perhaps be going too far – although at the time of the mosaic's creation, reconstruction had begun. However, on many plots of land ruins and mountains of stones still reminded of the war.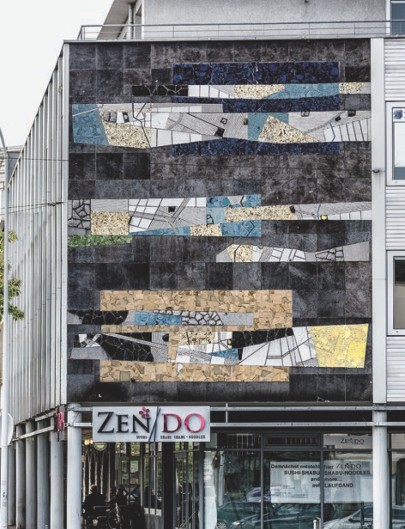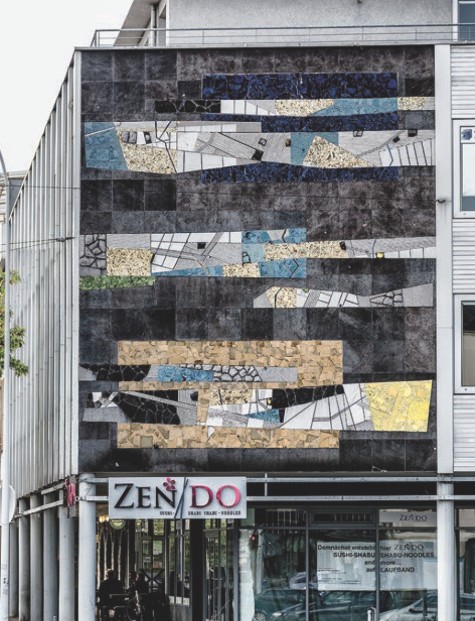 A similar mosaic by Lander, in a somewhat smaller format, stands at the entrance to the house at Heinrichstrasse 71 in Darmstadt. The large wall mosaic on the corner of Rheinstrasse and Kasinostrasse, which was created a few years later (1960), is similarly abstract. The city map interpretation is plausible at this point, and the more accentuated colors express a much more optimistic confidence.